America's Top 12 Restaurant Cities

Miami, FL
Fruits and Spices
Floribbean cuisine is the latest rage to come out of Miami... a delicate fusion of tropical fruits, fresh seafood, and Caribbean spices.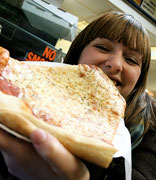 New York, NY
Haute Stuff!
NYC is haute cuisine capital, home to the country's finest French and American restaurants.
San Francisco, CA
Asian Persuasion
Pamper your exotic taste buds in San Francisco where the most flavorful Asian dishes are served.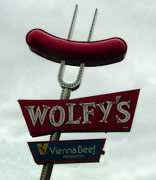 Chicago, IL
American Food
With its deep-dish pizza and Chicago-style hot dog, Chicagoans have perfected
two of America's culinary favorites.

Eat, drink, and be merry! Sampling unique food in an unfamiliar city is definitely one of the best pleasures of traveling. That's why, for your sake, we've cooked up a comprehensive directory of restaurants in some of America's top culinary destinations. Plan on visiting the Big Apple? Go ethnic! Check out the hundreds of multicultural cuisines represented in New York City's restaurants. Seafood crazy? Find the perfect surf in one of Seattle's restaurants. Don't miss out on the famous clams of Ivar's or the aphrodisiacal oysters of the Pacific Northwest.



United States Restaurants

American cuisine is a smorgasbord of regional specialties. Eclectic and delicious! Ever tasted authentic New England cuisine? Visit the restaurants in Maine, Massachusetts, Connecticut, and New Hampshire and munch on the traditional foods of America's forefathers... lobsters, clambake, and corn chowder. Too bland? Season it a little with some Cajun cuisine in Louisiana. Cayenne and black pepper seem to go well with shrimp gumbos and Catfish Court-Bouillons. Better yet.... spice it all the way up with some Tex-Mex! Fajitas, tortillas, and hot chili have a way of stirring the taste buds. Try it at a restaurant in Texas or New Mexico.